Una volta tanto c'è da sentirsi orgogliosi di essere Italiani. In questo momento, in cui sto scrivendo, la quasi totalità delle principali testate giornalistiche di tutto il mondo sta battendo la notizia che oggi, 13 Febbraio 2011, quasi un milione di donne sono scese in piazza per manifestare contro il presidente del Consiglio dei Ministri e la sua politica sessista.
È molto raro che una manifestazione di piazza pacifica e non organizzata da partiti politici in Italia riceva tanta attenzione. Di seguito una breve carrellata, tanto per farsi un'idea. Sono tutte home page di grossi network, cliccate per ingrandire le immagini.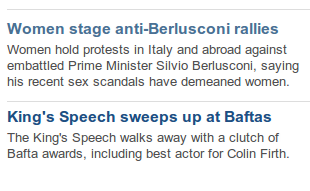 BBC News World Edition
---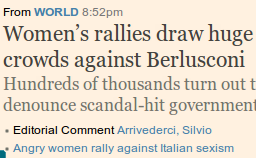 Financial Times
---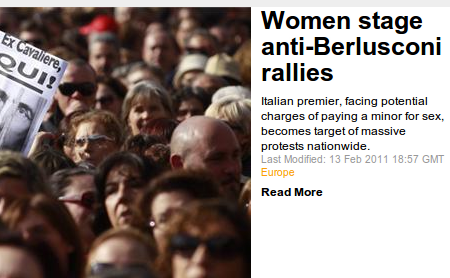 Aljazeera
---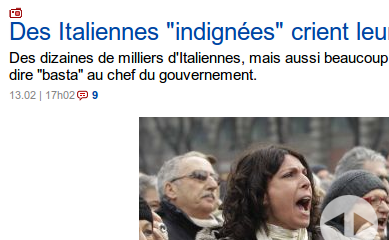 Le Monde
---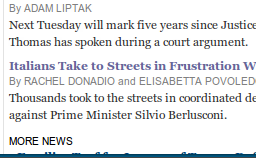 The New York Times
---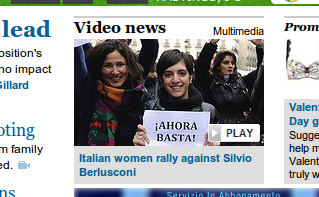 The Sunday Morning Herald
Mi hanno personalmente colpito due aspetti: l'enorme afflusso di persone e la totale assenza di bandiere di partiti politici, associazioni politicizzate (leggi: sindacati) o altro. Solo donne che scendono in piazza perché non sopportano più la situazione attuale. Per una volta saltiamo alla ribalta per qualcosa di positivo, non per la mafia, il debito pubblico, l'inettitudine della nostra pietosa classe dirigente.
Altro aspetto fondamentale è che al centro di questa manifestazione ci sono le donne. L'hanno organizzata loro, il tema è quello del rispetto della donna, il colore della manifestazione è il rosa. Io non ricordo altri eventi del genere, forse bisogna tornare indietro al femminismo, ma non ero ancora nato.
Dopo Algeria ed Egitto ci si chiede quale sarà il prossimo paese del Mediterraneo a cacciare il proprio dittatore. E se fosse l'Italia?