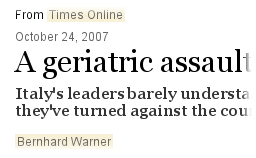 In questi giorni tutti, sulla rete, parlano della vergognosa proposta di legge che prevederebbe, qualora attuata, la creazione del ROC, registro dell'Autorità delle Comunicazioni, cui chiunque abbia un blog o un sito sarebbe tenuto a registrarsi.
In tutta questa vicenda molto italiana, il fatto a mio parere rilevante è che sul Times è apparso un bell'articolo di Bernhard Warner riportato dal blog di Beppe Grillo. Vi invito a leggere l'articolo originale, visto che nel post di Grillo non è riportato il link. È davvero ben scritto ed equilibrato, un po' più pacato dello stile a cui Grillo ci ha abituato.
Una passaggio su tutti, davvero brillante:
If the Italian Government seems unable to adapt to the modern world, the explanation is quite simple. Your country would operate like this too if your grandparents were in charge.
Il mio commento sulla vicenda è scontato: se questa bella trovata fosse stata proposta dal centro destra, forse avrei pure potuto capirlo, ma proposta da gente che alle ultime elezioni si è spacciata come il faro delle libertà civili, contrapponendosi allo strapotere di un Berlusconi illiberale, fa veramente riflettere sulla triste condizione in cui versa questo Paese, bello sì, ma anche tanto sfortunato.
Aggiornamento: vi segnalo anche quest'articolo di Manlio Cammarata, che da moltissimi anni si occupa di tutto ciò che riguarda gli aspetti legali legati alla rete Internet: "Editoria: fermare la riforma che non piace a nessuno". È molto equilibrato ed estremamente interessante.